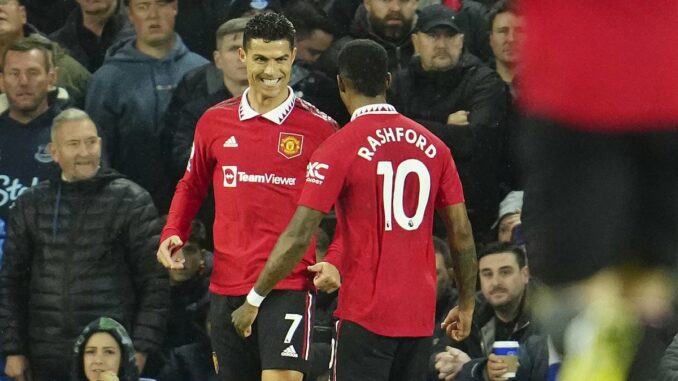 Marcus Rashford says 'NO ONE can touch' special gift given to him by former Man United team-mate Cristiano Ronaldo
Marcus Rashford was presented with a gift by ex-team-mate Cristiano Ronaldo 
He has made it clear that no one can touch the gift as it is so important to him
It's baffling why Guardiola sold Palmer to a rival club – It's All Kicking Off
Marcus Rashford has insisted a gift he received from former Manchester United team-mate Cristiano Ronaldo is off limits to everyone.
Rashford and Ronaldo played alongside each other at Old Trafford for just over a year between 2021 and 2022 before the latter left the club following a breakdown in his relationship with manager Erik ten Hag.
Despite Ronaldo moving on, there remains plenty of respect between him and Rashford, who admits the Portuguese star has always one of his idols.
Back in 2018, before returning to United for his second spell, Ronaldo gave Rashford a pair of Nike Air Max 97 CR7 Red trainers worth £145, leading to the United striker posting 'Thanks for the gift @cristiano' on Instagram.
Five years on, he has revealed that he has never worn the trainers and refuses to let anyone near them out of fear that they could be ruined.
Marcus Rashford was given a special gift by Cristiano Ronaldo back in 2018
Ronaldo gave Rashford a pair of Nike Air Max 97 CR7 Red trainers worth £145
Rashford has admitted he has never worn the trainers and will not let anyone near them
Marcus Rashford says he'll never wear the sneakers Ronaldo gifted him 👟🎁 #sneakershopping
Your browser does not support iframes.
'No one can touch them!' Rashford told host Joe La Puma during an appearance on the TV show Sneaker Shopping.
'He (Ronaldo) was one of my favourite players growing up. I liked the shoe, I'd love to wear the shoe but if I messed them up then I don't know what I'd do to myself.
'So, I'm just better to keep those ones away.' 
Rashford refusing to wear the trainers highlights how sacred they are to him. He has built up an eye-catching selection of shoes over the years, and has become a fashion trendsetter.
The 26-year-old attended Paris Fashion Week earlier this year alongside England team-mate Jude Bellingham, and has previously been on the front cover of Vogue.
But now his focus is firmly on football and trying to get back to his best after a difficult start to the season at United that has seen him find the net just once.
He is set to join up with the England squad later this week for their Euro 2024 qualifiers against Malta and North Macedonia, although it has been confirmed that his arrival has been delayed as he deals with a personal matter. 
IT'S ALL KICKING OFF! 
It's All Kicking Off is an exciting new podcast from Mail Sport that promises a different take on Premier League football.
It is available on MailOnline, Mail+, YouTube, Apple Music and Spotify.
Your browser does not support iframes.

Source: Read Full Article