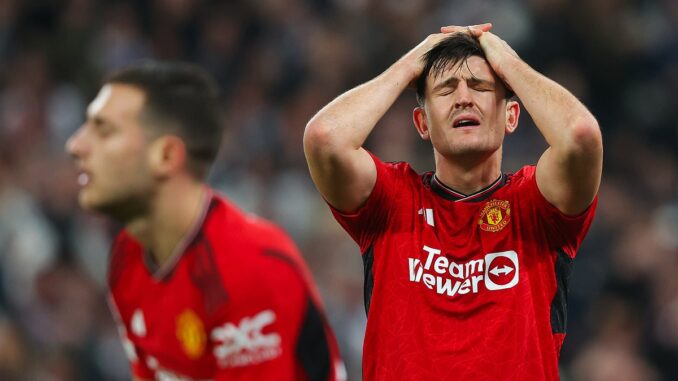 Ruud Gullit fears for Erik ten Hag's job as Manchester United struggle to 'stop the bleeding' amid terrible start to the season… as he says 'nobody is afraid of them' ahead of Luton's visit
United's Champions League hopes hanging by a thread after Copenhagen loss
Gullit said Ten Hag knew he was 'going to get hammered' after latest setback 
'It's Erik ten Games' – surely he has to beat Luton now – It's All Coming Up 
Ruud Gullit fears for Erik ten Hag's job as Manchester United struggle to 'stop the bleeding' during a disastrous start to the season.
Wednesday night's 4-3 loss to Copenhagen left their Champions League hopes dangling by a thread and was the ninth defeat they've suffered in 17 matches this season.
Ten Hag is under increasing pressure to turn things around with even United's victories being largely unconvincing.
They were two goals in front against Copenhagen when Marcus Rashford was sent off but rallied to lead 3-2 until the closing minutes, before conceding twice.
They host strugglers Luton Town at Old Trafford on Saturday and Dutch legend Gullit fears no match is straightforward anymore for the Reds.
Manchester United slumped to their ninth defeat in 17 matches this season as they went down 4-3 to Copenhagen in the Champions League on Wednesday night
Ruud Gullit (left) fears for his Dutch counterpart Erik ten Hag (right) amid intense pressure
Roony Bardghji scored a late winner for Copenhagen to pile on the misery for United 
Your browser does not support iframes.
'Nobody is afraid of them and everyone wants to play them because they all think they have a chance. That's the energy you have to take care of,' Gullit told BeIN Sports.
'Every time you think they have stopped the bleeding and put a plaster on, all of a sudden something comes up.
'Today again you start well and then something strange happens and then you are out of control.
'Still, I think you should've done better with 10 men and that's for sure, it's chaos.'
On Dutch coach Ten Hag's prospects, he added: 'I fear big [for his job]. When I saw him on the pitch after that he was very calm. I feel for him because I think they are going to get hammered the whole week. It doesn't look good.
'The thing is as a coach you think to yourself that first 25 minutes was excellent, that's something I can build on and then something happens and it all collapses.'
The two late Copenhagen goals sent United tumbling from second in Group A to fourth with European football after Christmas far from guaranteed.
Ten Hag's side face a daunting trip to Istanbul next to play Galatasaray before they host Bayern Munich in their final group fixture.
Harry Maguire looks dejected after Copenhagen snatched all three points on Wednesday
IT'S ALL KICKING OFF! 
It's All Kicking Off is an exciting new podcast from Mail Sport that promises a different take on Premier League football, launching with a preview show today and every week this season.
It is available on MailOnline, Mail+, YouTube , Apple Music and Spotify
Your browser does not support iframes.

Source: Read Full Article