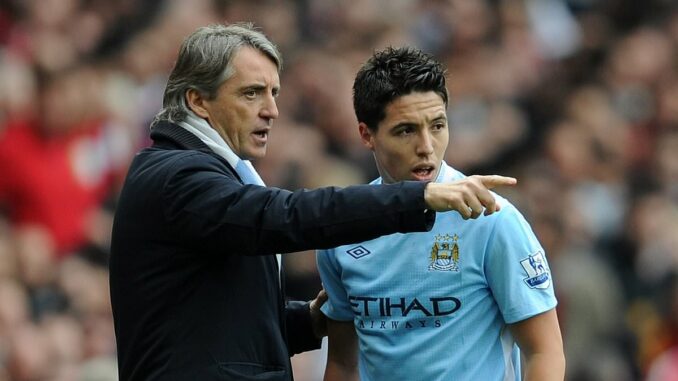 'Come outside. I'm going to f*** you up!': Former Man City bad boy Samir Nasri threatened boss Roberto Mancini and told No 2 David Platt 'you're just here to suck his d**k', reveals old team-mate Joleon Lescott
Samir Nasri was known for being a passionate and argumentative footballer 
Joleon Lescott remembers when he challenged Roberto Mancini to a punch-up
England will struggle to win a trophy with Kalvin Phillips – It's All Coming Up
Samir Nasri once threatened to fight Roberto Mancini and insulted assistant David Platt during Manchester City training session, Joleon Lescott recalled. 
The Frenchman had a reputation for being a dressing room firebrand, with former team-mates often recalling examples of his temper flaring. 
Lescott revealed one fracas in the build-up to the October 2011 derby, in which City beat Manchester United 6-1 at Old Trafford, when Nasri was unhappy with how he had been treated in training. 
'He [Mancini] used to do the prep in the middle of the pitch and he's telling players what he wants,' Lescott told That Peter Crouch Podcast. 
'He's telling Samir Nasri to do what he wants him to do, but David Platt is on the side, and he's telling him to do something different, so he's half-listening to both and doing different things. 
Joleon Lescott revealed how Samir Nasri threatened to fight Roberto Mancini and didn't hold back in insulting David Platt 
According to Lescott, Nasri said 'I'm gonna f*ck you up' to his boss before the Manchster derby
He also told assistant Platt that he was only there to 'suck' Mancini's 'd***', though no physical fight broke out
Your browser does not support iframes.
'And then the manager lost his head and said: "Samir, you're not doing it, go in." Samir's gone in with no retaliation, so I'm thinking, that's not like Samir, Samir has got something in him to retaliate a little bit.' 
Lescott remembers being on a balcony above the team gym and eavesdropping on the fury that followed, with Nasri calling for a fight outside. 
'I heard Samir come in. He's gone: "You [Mancini], outside. F*****g outside now! You will never speak to me like that again. I'm not Mario Balotelli. Get outside. 
'So Mancini is saying "come into my office" and he's like "no, I'm not coming into your ofice, get outside now!" He's calling him outside to have a fight with him. I'm just peeping! I could see from afar what was going on, me and one of the young goalies up there. 
'He is saying "come outside, I'm gonna f**k you up, come outside, you will not speak to me like that again." 
'The manager has come in saying "calm down." And then Platty has come and said "Samir, calm down". 
'He [Nasri] went: "shut up, you're just here to suck his d**k!"'
Lescott confirmed that Nasri's offer of a fight was not duly accepted, and that while he wouldn't speak to a manager that way, he respected Nasri's straight talking with everybody. 
Incidentally, the attacking midfielder was only on the bench for the Manchester derby, but he still played a pivotal role that season as City sealed their first Premier League title. 
Nasri spent five seasons at Man City, winning two Premier League titles, before being sent on loan when Pep Guardiola arrived in 2016 and then sold in 2017
He spent five full seasons with the club after joining from Arsenal in 2011, winning two Premier League titles and a League Cup under Mancini and Manuel Pellegrini. 
However, he was excluded after playing just one game under Pep Guardiola in the 2016/17 campaign and even managed to fit in a row with the Spaniard before leaving. 
Guardiola was not happy with his physical condition in pre-season and scolded him for being overweight, something which Nasri took issue with.
He was loaned to Sevilla for the 2016/17 season and sold to Turkish club Antalyaspor the following summer.  
IT'S ALL KICKING OFF! 
It's All Kicking Off is an exciting new podcast from Mail Sport that promises a different take on Premier League football.
It is available on MailOnline, Mail+, YouTube, Apple Music and Spotify.
Your browser does not support iframes.

Source: Read Full Article