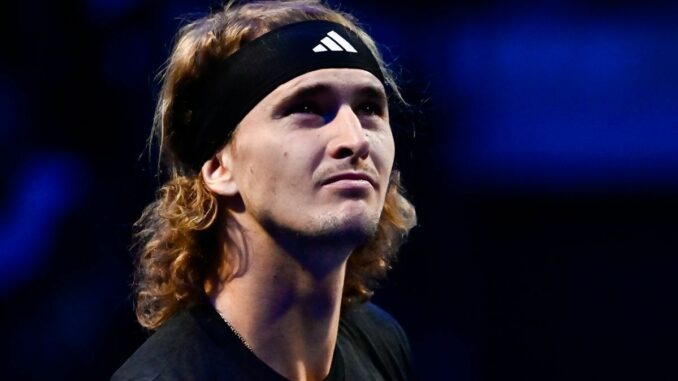 Daniil Medvedev will have Alexander Zverev firmly in his corner when he faces Carlos Alcaraz in his final group stage match at the ATP Finals. The Russian became the first player to reach the last four by beating Zverev on Wednesday night, while Alcaraz cruised to a routine win over Andrey Rublev.
A win for Medvedev over Alcaraz will boost Zverev's hopes of making the semi-finals in Turin, with the German player having won one and lost one of his first two matches at the tournament. Alcaraz is on the same record after losing to Zverev in his opening match and could send the latter packing if he manages to beat Medvedev on Friday.
Zverev, who will go up against winless Rublev in his next match, has since revealed that he will be supporting Medvedev against Alcaraz as he looks to pip the Spaniard to a place in the last four.
"I've never won a second round-robin match at this event and I won the tournament twice … that obviously gives me hope," said Zverev. "On Friday, I'll be the number one Daniil Medvedev fan there is on this planet, for a change. We'll see how it goes.
JUST IN: Daniil Medvedev and co will be worried about Novak Djokovic boos at ATP Finals
"It's a little bit out of my hands. Of course, if Daniil wins, he's playing very well, I think he does have a lot of chances to win. I have to be focused … and be ready to beat Andrey."
Medvedev was later asked about Zverev's comments and said that he understood his rival's stance, with the outcome set to have a major impact on the latter's hopes of reaching the semi-finals. The Russian also insisted that he will need to be at his very best to beat Alcaraz, who lost to Zverev in his opening match earlier this week.
Support fearless journalism
Read The Daily Express online, advert free
Get super-fast page loading
Don't miss…
Novak Djokovic makes claim about rivals after Jannik Sinner ends winning streak[REACTION]
Rune gives classy verdict after Tsitsipas retires 17 minutes into ATP Finals tie[LATEST]
Novak Djokovic pulls umpire into sarcastic row as Jannik Sinner tie heats up[NEWS]
"That's normal, he wants to go through," said Medvedev when quizzed on Zverev's public declaration of support for him. "For sure, if I beat Carlos, it's going to be the best for him, so it's normal. I would be the same. I can see him looking at the match, if I miss [he will be] going: 'No, why did he miss', same if I win points.
"I think against [Alcaraz], especially the way he played today, better than two days ago, you have to be at your best. You have to serve well. Here there is an opportunity, you can serve aces against him like Sascha [Zverev] did, so I need to play fast. I need to make winners before he does it.
"Today he was [playing] pretty well. It's going to be a good continuation of a test. I beat two good opponents and I have another one in two days. I'm going to try to do my best."
Click here to join our WhatsApp community to be the first to receive breaking and exclusive tennis news.
Source: Read Full Article