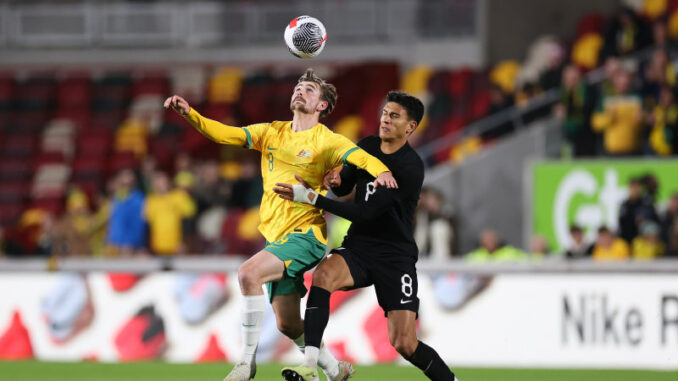 Save articles for later
Add articles to your saved list and come back to them any time.
Key posts
Goodbye
Australia win 2-0 in west London
Irvine scores for Socceroos
Crossbar saves Socceroos
Second half under way
Who actually scored the goal?
Australia lead 1-0 at half-time
Boyle goal called offside
Goodbye
Well, that's all from us today.
For the second time in four months, Australia are leaving England with the Ashes.
Rediscovered in a suburban Sydney garage after going missing for almost 70 years, the 'Soccer Ashes' re-took their rightful place as the symbol of trans-Tasman football supremacy on Tuesday night (Wednesday morning AEDT) – and by virtue of having won the last time they went up for grabs in 1954, the Socceroos' 2-0 win over New Zealand meant they technically retained them.
If you want to read the full report from our expert on the ground, Vine Rugari, you can find it here.
And while you're at it, catch up on the latest news on one of Australia's favourite exports – Ange Postecoglou.
Goodbye.
Full-time at Wembley
Marcus Rashford broke the deadlock for England on 57 minutes before Harry Kane added another 20 minutes later for a 3-1 win.
Euro 2024 qualifying results
England 3 Italy 1
Malta 1 Ukraine 3
Serbia 3 Montenegro 1
Lithuania 2 Hungary 2
Finland 1 Kazakhstan 2
Northern Ireland 0 Slovenia 1
San Marino 1 Denmark 2

Advertisement

Alessandro Circati 'very happy' on debut

Another Australian who will remember this friendly is debutant Alessandro Circati.

The 20-year-old said Graham Arnold only told him this morning that he would get a start.

"I'm very happy we won and also happy with my first game for the Socceroos," Circati said.

"His [Arnold's] message was just play how you play with your club…and I feel like I've done exactly that."

Alessandro Circati in his debut for Australia.Credit: AP

'Felt like home': Luongo back after five years

It's been five years since Massimo Luongo has worn the green and gold, but today, coach Graham Arndols finally gave him another start.

The 31-year-old originally from Sydney said he was grateful to get another opportunity to represent Australia.

Massimo Luongo battles for the ball.Credit: AP

"I just enjoyed it. I went out there, I wasn't nervous, I wasn't building up in my head or anything…it felt like I was home," Luongo said.

"The England game [last week] I was thinking if I played then it would be a little cherry on top…didn't happen. Today Arnie put me in, put his full trust in me, and I think the boys played really well."

Australia win 2-0 in west London

Well, it's coming home.

Forget the Euros, this is the rivalry and the victory everyone will be talking about – the Soccer Ashes.

People will be naming their firstborn 'Souttar' and 'Irvine' and the Australians will lift the tiny trophy in west London after a comfortable 2-0 victory.

Full-time: Australia 2, New Zealand 0

Advertisement

We're inside the final 10 minutes, and the All Whites are trying their best to get on the board.

There are seven New Zealanders up around Australia's box, and Matthew Garbett tries to have a shot at goal.

But Maty Ryan isn't fazed, and nothing comes of it.

Australia 2, New Zealand 0 after 84 minutes

That was Irvine's best strike since this slapback against our own Vince Rugari at the World Cup in Qatar last year.

Jackson Irvine (right) celebrates with Martin Boyle.Credit: AP

The Nick Cave-loving Socceroo spoke last week about bringing his form from Germany's second tier – where cult favourites St Pauli currently lead the standings over crosstown rivals Hamburg in the race for Bundesliga promotion – to the national team, and he's certainly done that tonight.

Irvine scores for Socceroos

Finally, we have another goal!

It was a bit too easy for the Socceroos, with substitute Jackson Irvine heading in a ball from a Martin Boyle corner.

The ball finds the back of the net, and Irvine adds another goal to his international tally.

Australia 2, New Zealand 0 after 76 minutes

Advertisement

Australia hold lead with 20 minutes left

With 20 minutes left in this match, the Australians still hold the lead.

With just one goal the difference, the Socceroos really can't be complacent to finish this match, and they've had plenty of opportunities to extend that lead.

There have been a few missed opportunities for the Australians – bad passes and offside flags – and coach Graham Arnold doesn't look impressed on the sideline.

Australia 1, New Zealand 0

Australian coach Graham Arnold talks to his team from the sideline.Credit: Getty