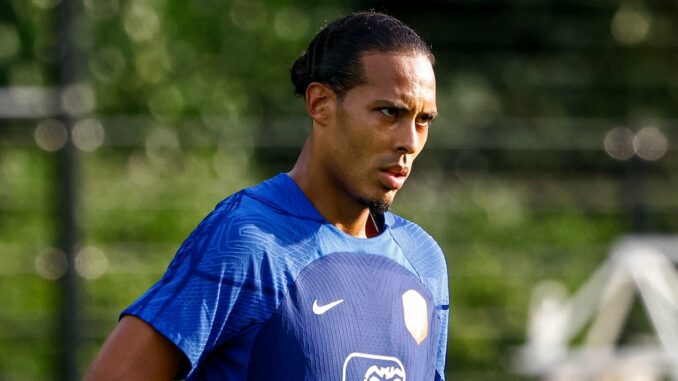 Virgil van Dijk rejects Louis van Gaal's claims the World Cup was RIGGED to help Lionel Messi lift the trophy… after ex-Netherlands boss said Argentina were 'not punished for overstepping the mark' in quarter-final clash
Lionel Messi's Argentina beat France 4-2 on penalties to win the 2022 World Cup 
Virgil van Dijk has rejected claims the World Cup was rigged in Messi's favour
Listen to the latest episode of Mail Sport's podcast It's All Kicking Off 
Virgil van Dijk has rejected claims from his former Netherlands coach Louis van Gaal that the World Cup in Qatar was rigged to help Lionel Messi lift the trophy.  
Messi led Argentina to World Cup glory in December, scoring twice in arguably the greatest final of all time, to help his country beat France on penalties after the sides were level at 3-3 after extra-time.
Netherlands were knocked out by Argentina at the quarter-final stage of the competition, in one of the most fiery games in recent World Cup history.
Van Gaal who resigned as head coach after the tournament, raised eyebrows by telling journalists that Messi's World Cup triumph was 'premeditated'. 
Speaking to NOS, Netherlands and Liverpool captain Van Dijk has strongly rejected his former manager's accusations.
Virgil van Dijk has rejected claims from Louis van Gaal that the World Cup was rigged
The ex-Netherlands boss claimed the World Cup was rigged to help Lionel Messi lift the trophy
Messi finally got his hands on the elusive trophy after Argentina's thrilling victory over France
He said: 'I heard it (Van Gaal's comments) this morning, indeed. And that's actually it.
'It is of course his opinion. Everyone is allowed to have an opinion. I do not share the same opinion.'
When asked further if Van Dijk, and the rest of the Dutch team stand behind Van Gaal's words, the defender simply responded: 'No.'
Argentina's quarter-final with the Netherlands saw an incredible 17 yellow cards, including a red for Dutch defender Denzel Dumfries towards the end of extra time.
The South American nation escaped the tempestuous clash without a sending-off, despite eight of their players picking up bookings. 
Netherlands came from two goals down to take the game to extra time after a dramatic 101st minute equaliser in stoppage time from former Manchester United striker Wout Weghorst.
Aston Villa keepoer Emiliano Martinez, like in the World Cup final, was the hero, as he saved penalties from Van Dijk and Steven Berghuis.  
When asked to reflect on the World Cup in Qatar, Van Gaal told Dutch outlet NOS: 'I don't really want to say much about it. When you see how Argentina gets the goals and how we get the goals, and how some Argentina players overstepped the mark and were not punished, then I think it all premeditated game.'
Van Gaal said that Argentina weren't punished for 'overstepping the mark' during their fiery quarter-final victory over the Netherlands 
An astonishing 17 yellow cards were dished out across both teams in the quarter-final clash
Your browser does not support iframes.
Van Gaal was speaking at the Eredivisie Awards on Tuesday, where he was recognised for his contribution to Dutch football.
After journalists asked the 72-year-old to clarify what he meant, the former boss said: 'I mean everything I say. That Messi should become world champion? I think so, yes.' 
Van Dijk and the Netherlands are preparing for their upcoming Euro 2024 qualifiers against Greece and the Republic of Ireland.  
They are currently fourth in their group and nine points off leaders France, though they do have two games in hand.  
The 72-year-old was recognised for his contribution to Dutch football at the Eredivisie Awards
IT'S ALL KICKING OFF! 
It's All Kicking Off is an exciting new podcast from Mail Sport that promises a different take on Premier League football.
It is available on MailOnline, Mail+, YouTube, Apple Music and Spotify.
Your browser does not support iframes.
Source: Read Full Article