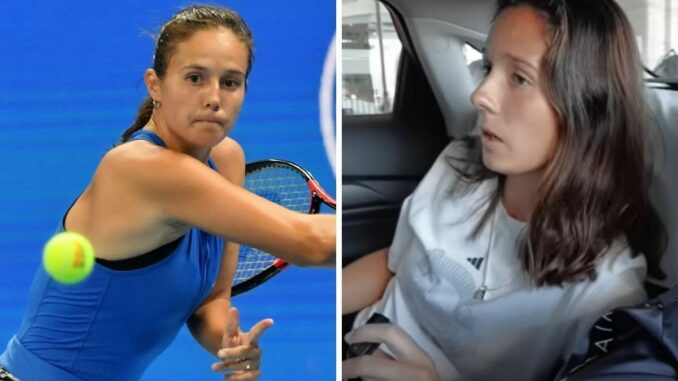 Daria Kasatkina has slammed the logistics of being a tennis player in a frustrated rant on her YouTube channel. The world No 11 revealed that she had gotten ill three times in the last month-and-a-half because of the intensity of the tennis tour, claiming there was "no worse sport in the world".
Kasatkina often documents her life as a tennis player on a joint YouTube channel she shares with her girlfriend Natalia Zabiiako. In their latest episode, the 26-year-old gave an X-rated speech about the struggles of being a professional travelling on the circuit year-round after she went from a tournament in Tokyo to the WTA 1000 in Beijing, where the tournament refused to pick her up because of the airport she flew to.
"F***. I arrived to a Masters and they meet only from one airport, they don't meet you from another. So I played in Tokyo last night and it was impossible to fly in the evening so I need to fly the next day, flight at 10am. So I need to arrive earlier so that I have time to practice because on Sunday, tomorrow, I have to play," she explained, speaking in the back of a car.
"And in order to do this, a flight that is suitable, it arrives to another airport but you will not be picked up from there. And now we've been sitting here for about 40 minutes, trying to figure it out, trying to withdraw money."
Click here to join our WhatsApp community to be the first to receive breaking and exclusive tennis news
Just in Roger Federer doesn't miss Rafa Nadal as retired star brands old rival a 'tiger'[LATEST]
Getting increasingly frustrated, Kasatkina explained that it wasn't the sport itself that was challenging, it was everything else about it. She continued: "Honestly, I'm so f***ing knackered, f*** tennis. The game of tennis itself is the simplest thing we do. Everything else is just completely f***ing bulls***.
"I can't travel anymore, I can't pack my things, I can't f***ing. These planes, moving, when you can't communicate with people from different countries, constantly changing f***ing beds, constantly packing and unpacking bags every f***ing week. I just can't do it anymore, I'm f***ing knackered."
And the travel had taken a toll on the Russian's body as she admitted she had been sick multiple times in the last few weeks. "My body is just telling me to f*** off already," she added.
We use your sign-up to provide content in ways you've consented to and to improve our understanding of you. This may include adverts from us and 3rd parties based on our understanding. You can unsubscribe at any time. More info
Don't miss…
Emma Raducanu comeback verdict given by US Open victim[QUOTES]
Novak Djokovic continues to fire shots at tennis bosses and vows 'I won't stop'[MESSAGE]
Carlos Alcaraz warned that 'master' Novak Djokovic could ruin his dream for 2023[EXPERT]
"For the third time in a month and a half I have a sore throat and in general my condition is incomprehensible. In terms of life logistics, there is no worse sport in the world. It's just complete bulls***."
Kasatkina had reached the quarter-final in Tokyo before a quick turnaround to get to the WTA 1000 event in Beijing where she ultimately won just won match. The six-time title winner had a better week in Zhengzhou, reaching the semi-final.
Source: Read Full Article