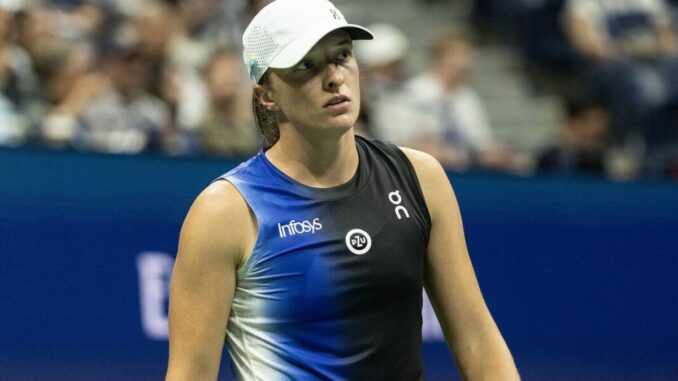 Chinese tennis star Wu Yibing on his journey to ATP Tour
Iga Swiatek will lose her status as the top-ranked women's tennis player in the world next week, but another former world No. 1 doesn't think that's a bad thing. The Polish 22-year-old will slip to number two on Monday after she was dumped out of the US Open in the fourth round by Jelena Ostapenko.
She will be replaced by Aryna Sabalenka, who has made it into the final at Flushing Meadows and will become No. 1 regardless of whether she beats Coco Gauff or not.
The Belarusian has already won the Australian Open this year and reached the semi-finals of both the French Open and Wimbledon, so it is perhaps no wonder that she has finally risen to the top of women's tour after such an outstanding year.
Swiatek's season has not been without success – she won the French Open for the third time in June and has three other 2023 titles to her name – but the Pole has spent most of the calendar year trying to defend her status at the pinnacle of the game.
That in itself has been a stressful experience for the four-times Grand Slam winner who made it clear that she had become tired of journalists constantly asking her about the pressure of protecting her No. 1 ranking.
And it is for that reason that former Swedish world No. 1 Mats Wilander believes that vacating the top spot could actually do Swiatek a favour.
He said: "I think this is most probably the best thing that can happen for her tennis. There's a reason for her to start working on her game again and figuring out what happens to her when she plays against big hitters now she doesn't have to [worry about being world No. 1].
Don't miss…
Eugenie Bouchard quits tennis after US Open for career in new sport[NEW START]
Roger Federer's former coach picks out 'problem' for Alcaraz and Djokovic[VERDICT]
Protesters cause Coco Gauff semi-final chaos as Alcaraz breaks rules[ROUND-UP]
We use your sign-up to provide content in ways you've consented to and to improve our understanding of you. This may include adverts from us and 3rd parties based on our understanding. You can unsubscribe at any time. More info
"But she's right in the statement about defending. We turn into a bit of a negative, we talk about defending, defending points, so I think it's time for her to step aside and work on her game a bit."
Swiatek enjoyed a superb 2022, winning both the French and US Opens as well as reaching the semi-final of the Australian Open. She became world No. 1 on April 4, 2022, and has remained there ever since, until Monday.
But with the pressure of protecting the top spot now lifted, she can turn her focus back to winning tennis matches and focusing on her next big target, a first-ever triumph at the WTA Finals in Cancun next month.
Source: Read Full Article