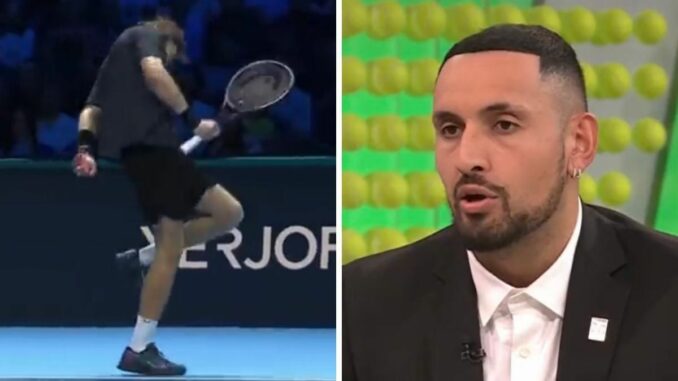 Nick Kyrgios has offered to fly to wherever Andrey Rublev is in a bid to help the world No 5 work on his mentality after a tough week at the ATP Finals. Rublev went 0-3 in his group stage matches and grew so frustrated that he smashed his knee with his racket several times, drawing blood. But Kyrgios believes that the 26-year-old still has plenty to be proud of this season and wants to assist Rublev.
After a triumphant year, Rublev's 2023 season came to a disappointing end when he failed to win a match at the ATP Finals and was eliminated. Following an outburst while facing Daniil Medvedev in his opening match of the week, his frustrations got the better of him when he took on Carlos Alcaraz on Wednesday.
While losing to the world No 2  – a defeat that guaranteed that he was eliminated in the group stage – he smashed his knee with his racket multiple times, leaving it bleeding. Kyrgios has now suggested that he flies to Rublev to help the 14-time title winner with his mental game before the 2024 season.
The Australian has been commentating on the ATP Finals for Tennis Channel this week and made the offer after watching Rublev lose a dead rubber to Alexander Zverev. "I think he's just got to be a bit nicer to himself," the 28-year-old said during one of his punditry appearances.
Click here to join our WhatsApp community to be the first to receive breaking and exclusive tennis news.
Just in Andy Murray withdraws from Davis Cup showdown against Novak Djokovic's Serbia[LATEST]
"I've said it over and over again that he's had a great season, won Monte Carlo. You look at all the past champions that won Monte Carlo, it's an amazing accomplishment. So he went 0-3 against some pretty tough opponents but I don't think he should go home super disappointed."
Kyrgios now wants to see Rublev work on his mentality ahead of January's Australian Open, something he said he could help with. The former world No 13 continued: "I think he's made three quarter-finals this year in the Grand Slams so I think moving into Australia he's got to be in a good mindset moving forward. I mean, I'll come fly to wherever he is and try to help him out mentally. I think I've got that down."
Rublev has reached nine Grand Slam quarter-finals in his career but has never been able to win one of them to advance further. Explaining what he needed to do to get to that next level, Kyrgios admitted that the world No 5 had often been unlucky when facing difficult opponents.
Support fearless journalism
Read The Daily Express online, advert free
Get super-fast page loading
Don't miss…
Alcaraz makes ATP Finals comment before Djokovic clash as Kyrgios calls out pal[UPDATES]
Carlos Alcaraz coach shares 'difficult' fomula Djokovic cracked to outdo Federer[EXPERT]
Alcaraz had deep chat with coach to banish mental fatigue as star lifts lid[QUOTES]
But the Australian also explained how Rublev's mental woes would take their toll in the latter rounds of Majors, having learned a lot when he reached his own Grand Slam final at Wimbledon in 2022.
"He's run into a couple of tough opponents, run into Foe at the US Open, it's a tough feat to pass," Kyrgios added. "But I think in a Grand Slam, I learned that last year, it's just such a mental grind. Physically you actually feel okay, it's just mentally being in the same spot for over two weeks. It's brutal.
"And I think mentally if you're going to get so angry and anxious all the time, you just feel drained by the quarter-final stage. So if he can maybe just channel those emotions a bit better, I can't believe I'm saying that, but if he can channel your emotions a bit better maybe he can get past the quarter-finals."
Source: Read Full Article