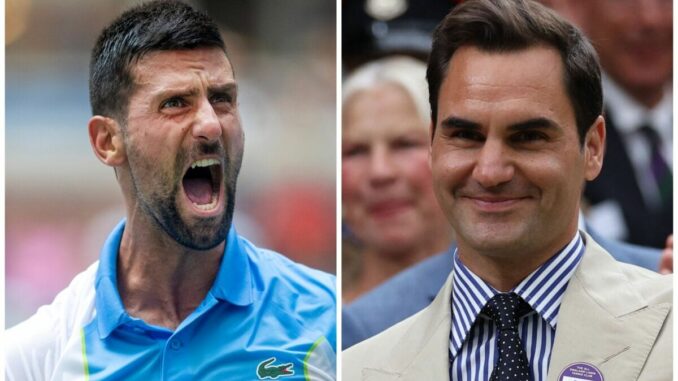 Novak Djokovic on course for 24th grand slam
We are heading towards the final stages of the US Open, with half of the semi-finals already played and the likes of Novak Djokovic and Coco Gauff already making their way to the final four. Today will see the likes of Daniil Medvedev and Aryna Sabalenka attempt to join them, as they take on Andrey Rublev and Qinweng Zheng respectively.
Djokovic cruised into the semi-finals after a straight-sets victory over American Taylor Fritz, having taken the microphone during his post-match interview and bursting into song as he set up a clash with Shelton, who overcame fellow home star Frances Tiafoe.
Shelton, 20, is playing just his fifth career Grand Slam as he became the youngest American male to reach this stage of the tournament since 1992, though will have to overcome the overwhelming favourite in Djokovic in order to reach the final in Flushing Meadows.
The remaining quarters see Medvedev take on Rublev on Wednesday, while Carlos Alcaraz will battle Alexander Zverev on Thursday as the Spanish Wimbledon champion will hope to defend his title against either Djokovic or Shelton on Sunday.
Gauff and Karolina Muchova are already into the final four of the women's bracket, while Sabalenka takes on Zheng on Wednesday and Madison Keys will face SW19 champion Marketa Vondrousova on Thursday.
Follow below for all the latest news and updates at the US Open…
Click here to join our WhatsApp community to be the first to receive breaking and exclusive tennis news
JUST IN Alcaraz warns Djokovic what to expect in US Open final with brutal message[LATEST]
Djokovic surpasses Federer
Novak Djokovic broke another of Roger Federer's records in New York, having reached his 47th Grand Slam semi-final with victory over Fritz.
Federer had previously held the title for most semi-finals in Major history with 46, but the 36-year-old claimed another accolade as he refuses to decline.
Having never lost a quarter-final at the US Open and holding that claim, the Serb will move to number one in the world rankings and hope to win the tournament for the first time since 2018.
Djokovic to speak with angry fan
Novak Djokovic defeated home star Taylor Fritz to reach the semi-finals, but not without hearing an angry supporter rant during the match.
The outbursts frustrated the Serb to such an extent that he asked one of his friends to have a "little chat" with the fan in order to get them to stop.
"He was actually in the box where some of my friends were," Djokovic said in his press conference. "I don't know who the guy was, but I was pretty annoyed by him.. I communicated with my friends to have a little chat with him."
Good morning
Hello and welcome to Express Sport's live coverage of the US Open, where you can find all the latest news and updates surrounding the final Grand Slam of the year.
You can also catch up with all of yesterday's action in our previous live blog.
We use your sign-up to provide content in ways you've consented to and to improve our understanding of you. This may include adverts from us and 3rd parties based on our understanding. You can unsubscribe at any time. More info
Source: Read Full Article