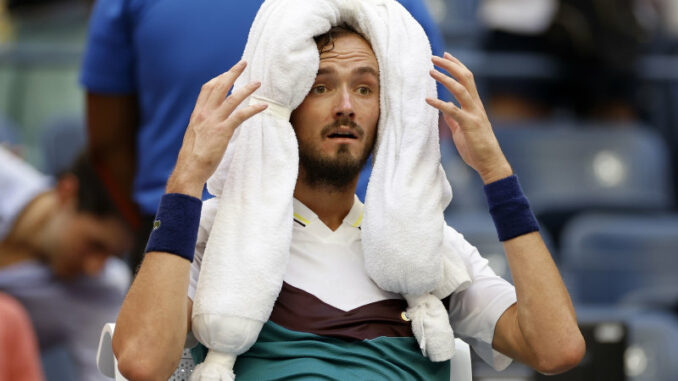 Save articles for later
Add articles to your saved list and come back to them any time.
Soaked with sweat as the temperature neared 35 degrees Celsius on the hottest day at this year's US Open, 2021 champion Daniil Medvedev walked slowly to towel off between points of his victory over Andrey Rublev, looked into a courtside camera and issued what sounded like a mix between a warning and a plea.
"You cannot imagine," he said. "One player [is] gonna die, and they're gonna see."
"It was brutal," Medvedev, a 27-year-old Russian seeded No. 3, said after eliminating Rublev 6-4, 6-3, 6-4 to reach the semi-finals at Flushing Meadows for the fourth time on Wednesday (Thursday AEST). "The only good thing I see in these conditions is that both [players] suffer."
An AP analysis shows that it is feeling hotter and hotter at grand slam tournaments in recent decades, reflecting the climate change seen in heat waves around the globe this summer. Week two at the US Open is pushing players to the limit.
They're using ice – so much ice, in plastic bags or wrapped in towels – and courtside tubes blowing cold air to try to stay cool.
Medvedev used an inhaler during a second-set changeover Wednesday while being checked on by a doctor, who checked his breathing with a stethoscope. Rublev leaned back on his sideline chair as if he would rather be anywhere else.
Daniil Medvedev cools down during his match against Andrey Rublev.Credit: Getty Images
"At the end of the first set, I couldn't see the ball anymore," Medvedev said, adding that he looked across the net at No.8 seed Rublev – his countryman, good pal and godfather to his daughter – and thought: "Wow. It seems like he cannot run any more."
Medvedev wore a white towel around his neck during the on-court interview after finishing off the two-hour, 48-minute match at Arthur Ashe Stadium and said he was looking forward to a cold shower. Under a new rule adopted on Tuesday for the rest of the event, the US Tennis Association partially closed the retractable Ashe roof – normally used to block out rain – to provide some additional protection from the sun for spectators and competitors.
"The immediate impact is specifically that more fans were shaded," tournament referee Jake Garner said on Tuesday, "and at the same time, the decision to close the roof puts the court in full shade, which does improve the conditions on court."
One unintended result: The shadows can make it hard to see the tennis balls as they zip through the air.
Rublev feels the heat.Credit: AP
Zheng Qinwen, the No.23 seed who defeated 2022 runner-up Ons Jabeur in her previous match, said that dynamic bothered her during a 6-1, 6-4 loss to Aryna Sabalenka.
Sabalenka won 20 of the initial 24 points to race to a 5-0 lead after just 17 minutes.
She reached the semi-finals for the fifth major in a row and will rise from No.2 to No.1 in the WTA rankings next week, replacing 2022 US Open champion Iga Swiatek, who exited in the fourth round.
As for the weather? Sabalenka, a 25-year-old from Belarus, said her training base in the United States prepared her well for the heat and humidity, which rose above 50 per cent.
"I mean, it was hot, but because I did my preparation in Florida – I mean, what can be worse than Florida? I mean, in July and June, you know. Not, like, overall," said Sabalenka, who has dropped a total of just 21 games through five matches over the past one and a half weeks. "So I think that's really [helping] me today to stay strong and [not] really get tired because of the heat."
She improved to 7-0 in major quarter-finals as she seeks her second slam trophy to go alongside the one she won at the Australian Open in January.
Sabalenka will meet reigning Wimbledon champion Marketa Vondrousova of the Czech Republic or 2017 US Open finalist Madison Keys in the semi-finals. The other women's semi-final will be No.6 Coco Gauff against No.10 Karolina Muchova.
AP
Watch all the action from the US Open on 9NOW and 9GemHD, with every match streaming live & ad-free and centre court matches in 4K UHD on the home of grand slam tennis, Stan Sport.
News, results and expert analysis from the weekend of sport sent every Monday. Sign up for our Sport newsletter.
Most Viewed in Sport
From our partners
Source: Read Full Article