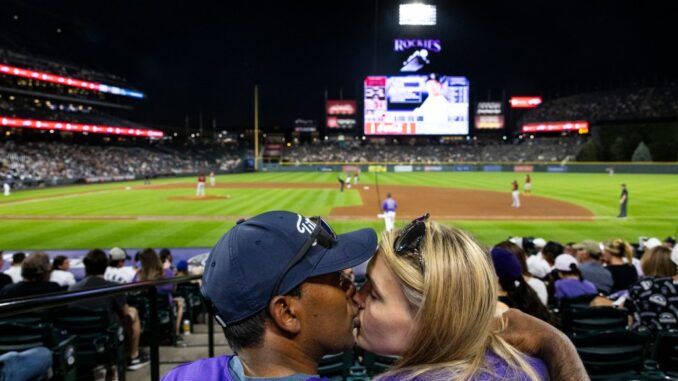 Audrey McKenny is a disenchanted Rockies superfan.
In the garden outside her home in rural Douglas County, purple-and-white flowers form a "CR" logo in celebration of her favorite baseball team. On summer evenings, she lounges in seats once used inside Coors Field.
She was a full-time season-ticket holder beginning with the birth of the team in 1993. Then McKenny, 64, switched to a ticket mini-plan, saying, "I got frustrated with some of the management moves regarding players."
Over the last couple of years, she's switched allegiances, choosing to spend money on the Nuggets, who won their first NBA championship this year, and the Avalanche, who won their third Stanley Cup title in 2022.
"I decided right out of the gate not to renew our Rockies' mini-plan," she said. "The primary reason? No commitment from the owner to win a championship now or in the near future. In sports, if you're not in it to win it, why do you own a team? Until we see commitment and action toward winning ways, our hard-earned dollars are going elsewhere."
McKenny's sentiments reflect the frustrations of many on the Front Range.
The Denver Post solicited fans for their views on the Rockies and attending games at Coors Field. Based on emails from more than 100 fans and an online survey that drew more than 2,300 responses, several themes emerged:
• Those who consider themselves devoted Rockies fans are tired of losing. The team is in the midst of a five-season playoff drought, has won one postseason game in 14 years, and this season, it lost 100 games for the first time in its 31 years of existence.
• According to The Post's survey, 54.7% of the fans say the main reason their support for the team has declined is because of owner Dick Monfort.
• Discontent over the February 2021 trade that sent star third baseman Nolan Arenado to St. Louis still lingers.
• Coors Field, which provides relatively affordable entertainment, remains the star attraction and a major reason why the Rockies continue to draw.
While Rockies third baseman Ryan McMahon says he greatly appreciates the fans' support, he also understands why so many of them are ticked off.
"If I was having a conversation with fans face-to-face, I would tell them that I'm frustrated, too," McMahon said. "I think we all are. We want to win. We need to do what it takes to win.
"I'd like to say we are moving in that direction but we haven't done that yet. We haven't done it out on the field and that's all that really matters. It's not for lack of trying, but nobody really cares how hard you try, they just want you to get it done. I do think, moving forward, that we have a lot of young pieces that we are adding. I think there is hope."
Knowledgeable, hardcore baseball fans, such as 66-year-old Mark Findley, remain skeptical.
Findley, who was the head baseball coach at Loveland High School from 1984-2005 and then at Fossil Ridge from 2011-15, is frustrated by the team's free-agent choices over the years.
He also believes that the Rockies made a mistake by not replacing team president Keli McGregor with someone from outside the organization when McGregor died suddenly in 2010. Instead, Monfort stepped into the role until April 2021 when COO and executive vice president Greg Feasel was promoted to the position.
Findley loves baseball, but he's given up on the Rockies.
"The only way I know to get the owner's attention is to not give him my money so that's what I've done," Findley said.
Findley's Rockies roots run deep.
His son, Ryan, was randomly selected as the Rockies' 2 millionth fan in August of 1995, the first year Coors Field opened. The family received Rockies swag and an all-expenses paid trip to watch Colorado play the Giants in San Francisco in September of that year.
But through the years, Findley's support of the Rockies has soured. He used to be part of a season-ticket group but dropped out after the 2015 season. He has not attended a game since 2017.
"I'm a Colorado native and a retired teacher and baseball coach and I've seen enough," Findley said. "If this were any other business or even any other franchise here in Colorado, heads would have been rolling long ago.
"This team needs a Pat Bowlen-type of owner who demands winning on every level."
Bowlen, of course, is the late Broncos owner who captained the team to three Super Bowl titles.
Monfort continues telling fans that the Rockies are attempting to turn things around. Last October, after a 68-94 season, Monfort reached out in his annual letter to season-ticket holders.
"Our expectations were high going into the 2022 season, but unfortunately, we did not meet those expectations," Monfort wrote. "It has now been four years since our last postseason appearance, and this is not acceptable."
Monfort declined to be interviewed for The Post's series about the Rockies, but his actions demonstrate that he does care about fans' opinions. In January 2020, in the midst of news that Arenado was feuding with former general manager Jeff Bridich, Margarito Gandarilla emailed Monfort with his concerns. According to Gandarilla, Monfort told Gandarilla to call him.
"So I did call him and we spoke for about 20 minutes on the phone," Gandarilla said. "He was very pleasant and he did his best to convince me about the direction of the Rockies."
Gandarilla, 38, who lives in Firestone, said he rarely attends games anymore and no longer follows the Rockies on a daily basis.
Still, the only major league team in the Mountain time zone all summer continues to draw. Despite their record, the Rockies are averaging 31,984 fans per home game, ranking 14th in the majors. That's down only slightly from the 32,467 they averaged last season (ninth).
There is, however, a caveat to the Rockies' 2023 drawing power: Through August, attendance was up 9% across MLB this season. That's a total increase of more than 4 million fans and an average of 2,424 more per game.
Despite their consistent failures on the diamond, the Rockies have almost always won at the ticket office. They have ranked in the top half of MLB attendance in 28 of 31 seasons (excluding the COVID-abbreviated 2020 season). Only once, in 2005, have the Rockies failed to draw 2 million fans in a full season (attendance was still limited in 2021 because of the pandemic).
There are plenty of reasons fans go to Coors Field, which on a summer night is a pleasant place to watch baseball and socialize with friends and family.
Ben Whitehead of Aurora takes his family to multiple games every season.
"I'm a baseball lifer and I pitched two years at a Division II school in South Carolina, where I grew up," Whitehead said. "I've loved the game for all the quirkiness it provides. There's nothing like it.
"I have two boys of my own now, 5 and 2. Of course, I want them to love sports and baseball in particular. (Coors Field provides) a great family time at the ballpark. We grab food and eat together. We walk around and let the kids play on the playground.
"We go to the team store. We get in line for Dinger. And we catch a few innings together, too! The 5-year-old is starting to enjoy watching all sports, and we've already sat to watch more baseball this year — at the park and on TV — than we have in the past. As a dad, it's just great to see my kids having fun."
Relative to other major league teams, Rockies tickets remain affordable. According to Statista.com, the Rockies, on average, have the fourth-cheapest tickets in the majors.
Taking a family to a game, however, can be pricey.
According to Statista's "Fan Cost Index," a family of four spends an average of $221.30 for the full ballpark experience at Coors. That's the sixth-cheapest in the majors. The Fan Cost Index includes the price of four average-price tickets, two small draft beers, four small soft drinks, four regular-size hot dogs, parking for one hour, two game programs and two least-expensive, adult-size adjustable caps.
The Rockies offer plenty of low-cost tickets. Standing room tickets for The Rooftop are available starting at $17, while tickets for the Rockpile beyond center field cost $9. Seats in the first level are available for $35.
Fans of other teams take full advantage of the summer nights and prices. Those who have relocated to Colorado, and those who vacation here, often turn Coors into a home park for visiting teams. Chants of, "Let's Go Mets!" or "Let's Go Dodgers!" drown out Rockies fans. When the Chicago Cubs come to town, some Rockies fans bemoan Coors as "Wrigley Field West."
During a three-game, weekend series against the Angels in June that featured superstars Shohei Ohtani and Mike Trout, 132,572 tickets were sold. When the New York Yankees came to Denver for a weekend series in mid-July, all three games were sold out.
For some fans, such as Boulder's Johnny Hergert, love of the game trumps everything else.
Hergert, 29, got hooked on baseball when he followed the Portland Rockies as a kid. From 1995 to 2000, those Rockies were Colorado's minor league affiliate in the Class A Short Season Northwest League.
"That planted the seed of my (Colorado) Rockies fandom from a young age," he said. "I believe enjoying the beauty of the sport is best done in person, not via a broadcast or a stat line."
But for a number of years, before he moved to Boulder, Hergert didn't have a team to root for in person. That's why he remains such a devout Rockies fan.
"Throughout my years in Colorado, I've attended as many games as possible," he said. "For me, baseball fandom is about connecting with your city, the ballpark and the team.
"While I'm highly disappointed in the Rockies' ownership and management, I am a proud citizen of this state and will cherish the ability to go to games and connect with our team and other fans, even at the lowest of lows. Seeing what it's like to live in a baseball void, I will never take the team for granted."
Want more Rockies news? Sign up for the Rockies Insider to get all our MLB analysis.
Share this:
Click to share on Facebook (Opens in new window)
Click to share on Reddit (Opens in new window)
Click to share on Twitter (Opens in new window)
Policies
Report an Error
Contact Us
Submit a News Tip
Source: Read Full Article