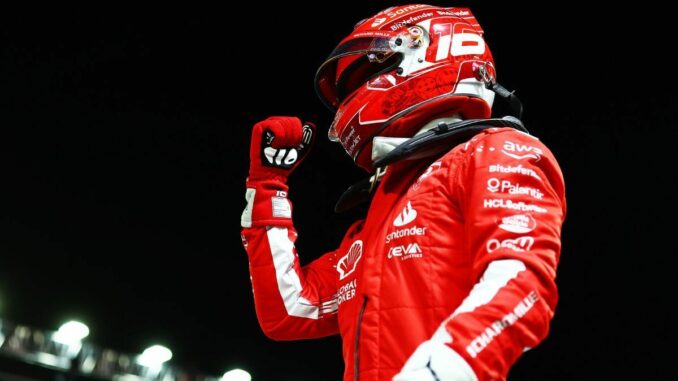 Charles Leclerc edged out Carlos Sainz to claim pole position at the Las Vegas Grand Prix as Lewis Hamilton suffered another qualifying nightmare. Leclerc dominated proceedings for the majority of the session and was duly rewarded with his second pole in his last three races, with Ferrari looking like the team to beat in Sin City.
The Monegasque driver was closely followed by Sainz, who was less than one-tenth adrift of the pace but will start Sunday's race from 12th after being handed a grid penalty on Friday. Max Verstappen was only quick enough for third after abandoning his final Q3 lap, with George Russell coming home in fourth ahead of Pierre Gasly and Alex Albon.
It was a different story for Hamilton, who was knocked out in Q2 after failing to make the most of Mercedes' impressive pace. Sergio Perez also failed to make the top 10 in another crushing blow for the Red Bull man, who has struggled to perform against the clock throughout the entirety of this season.
Recap Express Sport's live qualifying updates below…
KEY EVENTS
Top 1009:08
LECLERC TAKES POLE!09:02
End of Q208:41
End of Q108:19
Goodbye
That's all we've got time for today.
Thanks for joining us to follow live updates from qualifying in Las Vegas ahead of what should be an entertaining race tomorrow.
We'll be back in the morning at 5am, with the five red lights set to go out an hour later at 6am.
Catch you then!
Verstappen calls for rule changes
Max Verstappen wants the FIA to loosen their rules on penalties after Carlos Sainz was given a 10-place grid drop after Friday's practice sessions.
The Spaniard was forced to change his power unit after hitting a loose drain cover, which saw him punished despite not being able to do anything about the incideint.
"The rules have to be changed and if you get taken out you can lose parts," says Verstappen in the post-qualifying press conference.
"So, the rules have to be changed. Teams should not have a right to vote."
Hamilton speaks on Q2 nightmare
"Just not that great," says Lewis Hamilton when asked how his Mercedes car felt in qualifying.
"Yesterday, it felt better and we were looking competitive. We made some changes overnight, and it was poor. I was trying to play catch up from there.
"There was a lack of grip. Everyone had tyre graining, we had massive graining like everybody this morning. It's going to be interesting how tyres are managed tomorrow."
Norris 'not surprised' by Q1 exit
"It's not a surprise just because it's very close and when you're not quite comfortable and maybe one or two tenths off then it makes a difference," says Lando Norris in the media pen after his early Q1 exit.
"Two tenths was between me and five positions. If a couple things came together it could be like 'not a bad day'. 
"We've just been struggling with the car on this circuit. It's painful we didn't even get through to Q2. 
"I don't think we necessarily did anything wrong. Should we have maybe done a pit stop and put a new set of softs on? Potentially, but a tough decision to make in the middle of qualifying."
Watch: Leclerc's pole lap
Here's a look at the lap that saw Charles Leclerc grab pole position on the streets of Las Vegas…
Leclerc 'disappointed' with Q3 laps
"I'm happy to take the first pole in Las Vegas, it's an incredible event," says pole-sitter Charles Leclerc.
"To be starting from pole is great. However, I'm a bit disappointed about my laps in Q3. I didn't do a good enough job but it was enough for P1 and that's all we need.
"Now it's full focus to try and put everything together for the race. Normally, that's where we lack most performance so I hope we can put it all together and win here."
Verstappen: We maximised today
"It's quite cold out there, quite slippery," says Max Verstappen after coming home in third place.
"Being on a street circuit you try to get as close as you can to the walls but that's not always very straightforward.
"It was enjoyable out there. I think we maximised today. I think the whole weekend so far we have been lacking a bit of one lap performance and that was quite clear.
"I hope tomorrow in the race we are good on the tyres again and can work our way forward."
Top 10
1. Charles Leclerc
2. Carlos Sainz (10-place grid penalty to come)
3. Max Verstappen
4. George Russell
5. Pierre Gasly
6. Alex Albon
7. Logan Sargeant
8. Valtteri Bottas
9. Kevin Magnussen
10. Fernando Alonso
LECLERC TAKES POLE!
Charles Leclerc improves with his final lap time in Q3 to claim pole position in Las Vegas!
Carlos Sainz runs him very close but is forced to settle for second place
However, he will drop 10 positions for the race after being handed a penalty after Friday's practice sessions.
Max Verstappen, meanwhile, ends up in third after abandoning his final Q3 run.
Leclerc on provisional pole
Charles Leclerc goes quickest with his first Q3 lap time of 1:33.021.
He is closely followed by Carlos Sainz, who is just 0.022 seconds adrift of the pace.
Max Verstappen currently sits third, with Fernando Alonso in fourth ahead of George Russell and Pierre Gasly.
Five minutes to go…
Q3 underway
The 10 remaining drivers emerge from the pits as the shootout for pole begins.
Max Verstappen, George Russell, Esteban Ocon, Pierre Gasly, Carlos Sainz, Charles Leclerc, Fernando Alonso, Logan Sargeant, Valtteri Bottas and Kevin Magnussen are the last ones standing.
Who will claim pole position at the first Las Vegas Grand Prix in over 40 years? We'll find out in around 12 minutes' time…
End of Q2
Charles Leclerc lays down a huge marker by going seven-tenths clear of Max Verstappen in Q2.
Carlos Sainz comes home in second place ahead of George Russell in third.
It's a different story for Lewis Hamilton, who is out of qualifying!
Sergio Perez also ends up in the bottom five alongside Nico Hulkenberg, Lance Stroll and Daniel Ricciardo.
Ferrari back on top
Charles Leclerc now leads in Q2, with Carlos Sainz five-tenths behind his Ferrari team-mate in second place.
Alex Albon, Pierre Gasly, Logan Sargeant, Lance Stroll and Daniel Ricciardo are the five drivers at risk of elimination with three minutes to go…
Alonso goes quickest
Fernando Alonso gets off to a strong start by setting a lap time of 1:33.880.
It puts the Spaniard at the top of the standings ahead of Sergio Perez and Charles Leclerc.
The top three drivers are currently separated by less than one-tenth of a second!
Q2 begins
The remaining 15 drivers are making their way out on track for Q2, with five more set to be eliminated at the end of the next session.
Verstappen tangles with Ocon
Replays show that Max Verstappen and Esteban Ocon decided to go racing into Turn One on their last flying laps…
Six drivers noted by stewards
Lewis Hamilton, George Russell, Zhou Guanyu, Pierre Gasly, Alex Albon and Valtteri Bottas have been noted by the stewards for going too slowly on their out laps.
End of Q1
Charles Leclerc finishes Q1 as the quickest driver on track with a lap time of 1:33.617.
He is closely followed by Ferrari team-mate Carlos Sainz, with George Russell coming home in third.
Meanwhile, both McLaren drivers are out!
Lando Norris, Esteban Ocon, Zhou Guanyu, Oscar Piastri and Yuki Tsunoda make up the bottom five.
Drivers at risk
Here's a look at the current bottom five as we enter the last four minutes in Q1…
16. Zhou Guanyu
17. Daniel Ricciardo
18. Nico Hulkenberg
19. Pierre Gasly
20. Yuki Tsunoda
Hamilton into third
Lewis Hamilton gets himself into the top three but remains over five-tenths adrift of Charles Leclerc, who still leads.
Max Verstappen currently finds himself in sixth after an underwhelming first lap against the clock.
George Russell, meanwhile, sees a lap time deleted for exceeding track limits.
Perez blocks Norris
Lando Norris is left frustrated by a slow-moving Sergio Perez on the racing line, with the McLaren ace forced to back off his lap.
"I got blocked," he tells his race engineer. "He was completely in my way."
It would certainly be a surprise if Perez is not handed a penalty for that.
Leclerc setting early pace
Charles Leclerc gets the ball rolling in Q1 with a lap time of 1:34.898.
A few drivers, including Max Verstappen and Lewis Hamilton, are yet to set their first laps in anger.
Here we go!
Qualifying is now underway and the drivers are beginning to emerge from the pit lane for the start of Q1.
The likes of Lewis Hamilton, Max Verstappen and George Russell will be hoping to produce a few solid laps to get themselves into Q2 without too much difficulty.
Stroll receives grid penalty
Lance Stroll has been handed a five-place grid penalty for tomorrow's Las Vegas Grand Prix for overtaking under double yellow flags in FP3.
The Aston Martin driver has also been given three penalty points.
Mercedes 'not too far off'
Lewis Hamilton believes that Mercedes will be able to challenge at the front in Las Vegas after being left encouraged by the team's impressive pace in practice.
"It's okay, it's not too bad," said Hamilton when quizzed on how his car felt after FP2 yesterday morning.
"I think when we were all out on the similar tyres, I don't think we're too far off. And obviously, everyone's having graining and people running out of tyres, but everyone was I think in a similar boat."
What happened in FP3?
George Russell was the surprise leader at the end of FP3, with plenty being left undiscovered in advance of today's qualifying session.
The Mercedes ace managed to finish ahead of Oscar Piastri and home favourite Logan Sargeant after setting a best lap time of 1:34.093.
Max Verstappen was only quick enough for fourth place, while Lewis Hamilton ended up in eighth after failing to extract the same pace as Russell.
The session was brought to a premature close with just minutes remaining when Alex Albon collided with the barriers, marking the first crash of any driver in Las Vegas this weekend.
Good morning
Hello and welcome to Express Sport's live coverage of qualifying at the Las Vegas Grand Prix.
The stage is set for a wide-open battle for pole in Sin City, with the likes of Mercedes and Ferrari looking quick around F1's newest street circuit.
Max Verstappen remains the favourite to claim the spoils but failed to top the standings in any practice sessions and will be hoping to unlock some extra pace against the clock.
We're just half an hour away from the start of Q1 and will be keeping you updated with the action as it happens…
Support fearless journalism
Read The Daily Express online, advert free
Get super-fast page loading

Source: Read Full Article