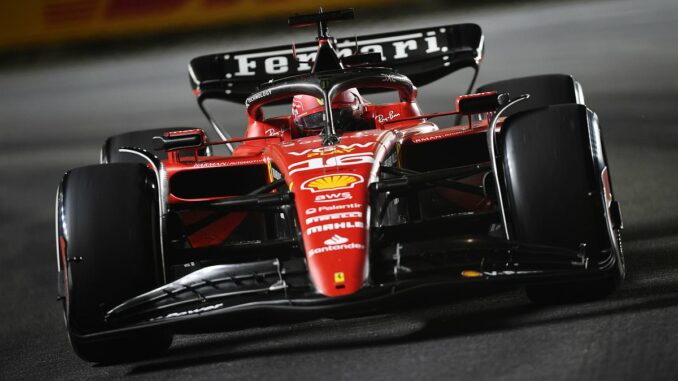 Carlos Sainz WINS the Singapore Grand Prix ahead of Lando Norris in second and Lewis Hamilton in third
Carlos Sainz has secured the second F1 victory of his career in Singapore
Lando Norris came second, with Lewis Hamilton taking third place 
 Max Verstappen's long unbroken run of success came to an end under the lightbulbs of Singapore as Carlos Sainz took Ferrari's first victory of the season with a consummate drive from pole position.
It was also the first non-Red Bull triumph of 2023, ending the super team's quest to become the first invincibles in Formula One history. Their form evaporated without explanation over the weekend, something thought impossible beforehand.
Verstappen finished fifth, and scored 10 points. He now cannot win the title in Japan next Sunday and will have to wait until Qatar on October 8. The procession, for it is still that, might even go down to Austin on October 22, with four races remaining.
His team-mate Sergio Perez finished eighth. The gap between the pair went up from 145 points to 151 with a maximum of 206 remaining.
Lando Norris finished second after a brilliant late duel with George Russell, who crashed out on the last lap in a nutty conclusion. Russell has been on Sainz's tail for much of the race but never a live threat until the death throes when he threw everything at it on medium tyres, only to come to griefby clipping the wall. Russell crash allowed Mercedes' team-mate Lewis Hamilton to take third place.
Russell screamed 'no' over the radio as his hopes evaporated.
Sainz took the chequered flag 0.8sec ahead of Norris, who was 0.4 off Hamilton. 'I had such good pace there at the end,' said Hamilton.
Russell's best hope was a good start from second on the grid, but he was relatively slowly away, losing ground not only to Sainz but also to the other Ferrari of Charles Leclerc. Hamilton cut the opening chicane but had to hand places back to Russell and Hamilton.
The safety car came out on lap 20 when calamity kid Logan Sargeant drove into the wall at Turn 1. Here, Russell jumped Leclerc in the pits after the Ferraris double-stacked.
Red Bull kept Verstappen, who had started 13th and risen to eighth, out on the hard tyres he had begun on. Ditto Perez. What else could they do? Each was passed, by Russell and Hamilton respectively.
Sainz controlled the race with Russell a second and a bit back, with Norris third and Hamilton fourth.
Mercedes pitted with 17 of 62 laps left when a virtual safety car was deployed for Estaban Ocon's Alpine retiring, putting them on mediums in an attempt to use the quicker rubber to their advantage. But they surrendered second and fourth for fourth and fifth in the attempt – on a track not noted for its overtaking generosity.
Russell was 18 seconds behind Sainz at this point. It was a tall order. The Ferrari had bags in reserve. Norris was second and Leclerc third as the race resumed – all the leading three cars banking on making it home on hard tyres after their one and only stop at the Sargeant-inspired safety car phase.
Russell and Hamilton passed Leclerc and were hunting Norris and Sainz. It was nail-biting. They were locked in a train, end-to-end, all on the limit. 
We held our breaths. Sainz, who controlled the race superbly, held on rubber turning into ribbon. Russell brushed the wall. Hamilton moved up. Leclerc finished fourth.
Source: Read Full Article