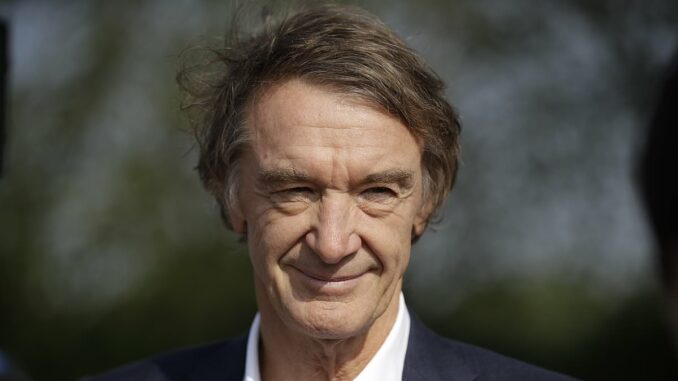 What can Man United fans expect with Sir Jim Ratcliffe at the helm? The British billionaire has had his struggles at Nice and was criticised by the club's captain last season… but now they've restructured and are FLYING in Ligue 1
Nice have endured a bumpy four seasons under Sir Jim Ratcliffe's ownership 
The French club are now riding high in second at the start of the Ligue 1 season 
Listen to the latest episode of Mail Sport's podcast 'It's All Kicking Off!' 
Significant change could be on the way at Old Trafford if the Manchester United board approve a deal this week to hand Sir Jim Ratcliffe's group a 25 per cent stake in the club.
The petrochemicals billionaire appears to have won the race for the Premier League giants after his main rival, Qatari Sheikh Jassim, withdrew his offer on Saturday night.
Ratcliffe, a lifelong United fan, will pay around £1.4billion for a quarter share at Old Trafford, with a first step in what is being viewed as a staged buyout.
A crucial point of the deal is the expectation that Ratcliffe's group will take control of Manchester United's football operations, which fans hope will see both a revival in the club's fortunes and a challenge for more silverware.
Man United supporters wondering how a Ratcliffe regime may look will have taken a growing interest in the fortunes of Nice over the past year; the Ligue 1 side are the flagship club of the INEOS Group's football project under Ratcliffe, with Swiss side Lausanne–Sport also part of their stable.
British billionaire Sir Jim Ratcliffe is poised to buy a 25 per cent stake in Manchester United
Ratcliffe is reportedly prepared to overhaul Man United's operations to support Erik ten Hag
Manchester United supporters will hope the INEOS group can lead a revival in their fortunes
With the club having finished in the top four in Ligue 1 three times in six years before INEOS's arrival in August 2019, Nice have had a bumpy ride since.
During INEOS' four seasons in charge of the club, Nice have finished fifth, ninth, fifth and ninth again last season with questions raised over their approach.
Unsurprisingly, the league positions have come with an overhaul of both playing staff and those in the dugout, with Patrick Vieira, Christophe Galtier and Lucien Favre having led the team over recent seasons.
Even the high point when Galtier led Nice to fifth, leading to him being poached by PSG, came with turmoil amid a falling out with sporting director Julien Fournier.
Despite both men leaving Nice in 2022, allegations emerged last season that Galtier had made comments about having 'too many black and Muslim players' during his time at the club. Galtier's lawyer Olivier Martin issued a denial earlier this year, stating that he contested the claims 'with the greatest firmness'.
The departures of both men from the club had been partly blamed for their slow start to last season, as the club launched an audit of their operations.
While Jim Ratcliffe's younger brother Bob heads up the INEOS' overall football operations, the audit was entrusted to Sir Dave Brailsford, who took over as Nice's de-facto general manager.
The former performance director of British Cycling and Team Sky – now Ineos Grenadiers – was tasked with overhauling the structure of the club.
Your browser does not support iframes.
Nice have had a mixed spell under INEOS with Christophe Galtier one of four managers
Former British Cycling supremo Sir Dave Brailsford overhauled Nice's management last year 
The review was reported to have delayed the club's summer transfer business with Brailsford working alongside former Crystal Palace and Cardiff City director Iain Moody to oversee player recruitment.
Transfers into the club differed considerably from INEOS's stated aim after taking in 2019, which promised to develop young players.
An influx of players well-known to English football fans followed with Kasper Schmeichel, Ross Barkley, Aaron Ramsey all joining the club permanently, while Joe Bryan, Nicolas Pepe, and Mads Bech Sorensen signed on loan from Fulham, Arsenal and Brentford respectively.
The recruitment was clearly a failure with none of the six at the club just a year later. Manager Lucien Favre was sacked in January after losing to third tier side Le Puy-en-Velay in the French Cup having returned to Nice only six months earlier following a successful spell back in 2017.
While interim boss Didier Digard oversaw a steady improvement in the second half of the season, club captain Dante was vocal in his criticism of the ownership after a shambolic season.
'To maintain a project, maybe you need to speak less about objectives and work in silence to create an environment of competitors. Because the expectation is even bigger, and then after, people are frustrated,' Dante said.
'The best thing to do is to prepare as quickly as possible for next season in order to start it well.
'Do you remember how many players came in at the end of the transfer window last summer?' Dante continued. 'Six left, six arrived. It's difficult in these conditions. Simply, we mustn't make the same errors.'
Ross Barkley was among a series of British based signings to struggle at Nice last season
Lucien Favre was sacked by Nice in January after an embarrassing loss in the French Cup
Veteran club captain Dante was critical of how the ownership was running the club last season
'If someone wants my opinion, the earlier we organise ourselves, the better it will be. If we want to aim higher, we have to anticipate things and put the values of the organisation in place.
'When the coach [Lucien Favre] arrived, we said in two years that we would always be in the Champions League. It doesn't work like that. Ligue 1 is very difficult.'
Despite his criticism, Dante signed a one year contract extension in the summer and the signs are that structural changes made are paying dividends.
Amid their struggles on the pitch last season, Nice announced the appointment of Fabrice Bocquet as chief executive last September, having previously served in the same role at FC Lorient between 2015 and 2020. 
'Fabrice will bring us his expertise, his open-mindedness and his strategic vision,' Brailsford said when announcing his appointment. 'We will be relying on him to inject fresh impetus and accelerate the club's development.'
Bocquet's appointment with swiftly followed by the arrival of a new sporting director in Florent Ghisolfi, who was poached from Lens after earning widespread praise for their recruitment.
Nice hailed Ghisolfi's arrival by stating that he had been the architect of Lens' development into an 'organisation focused on performance', fuelled by attacking football and making the right choices in staff and playing personnel.
Having ended the season with Digard in interim charge, Ghisolfi and Nice moved to appoint Italian coach Francesco Farioli in the summer. The 34-year-old Italian joined after spells at Turkish clubs Fatih Karagumruk and Alanyaspor.
Italian coach Francesco Farioli has overseen an impressive start to the new Ligue 1 season
Ratcliffe was in the stands in Monaco as Nice earned a 1-0 win to maintain an unbeaten start
The club were keen to highlight how Farioli had worked as the assistant to Brighton boss Roberto De Zerbi as Sassuolo and Benevento.
'He has a modern style and a methodology that we can identify with,' Ghisolfi said when explaining the left-field appointment.
'Our analysis of the teams that he has managed as well as our many discussions with Francesco about the playing style that he wants to implement were what guided our decision. 
'Possession, aggression with and without the ball, the ability to defend high up the pitch, forward passing, getting numbers into the opposition box. He moulds his teams with the intensity that we're looking for, and he'll be able to count on our performance department's expertise to serve that aim.'
The early signs have been promising under Farioli, with Nice unbeaten after eight matches this season, including winning four of their last five.
Nice have conceded just four goals so far this season, with reported Man United target Jean-Clair Todibo forming a key part of their defence. 
The focus on maintaining possession was highlighted by Todibo having an astonishing 188 touches of the ball in a recent match against Metz, the highest of any player since analysis since Ligue 1 began recording statistics. Khephren Thuram has also proved a crucial player in midfield.
Nice's transfer approach has also shifted back to its original aim of signing young rising stars with striker Terem Moffi and midfielder Youssouf Ndayishimiye recruited in January.
The signing of Moffi for £25m came despite interest from Bournemouth and West Ham, with Ghisolfi claiming the move was indicative of the club's new approach. 
Jean-Clair Todibo has formed a key part of Nice's strong defence at the start of the season
The signing of Terem Moffi marked a shift back to a policy of signing improving young players
'When it comes to the ideas that we want to implement and the identity that we want to establish, he's the ideal striker,' Ghisolfi said of the 24-year-old.
'Terem is capable of playing with his back to goal and of running in behind. He's a modern striker, very pacy and very powerful. He has experience, and he fights for the team. He will be one of the key men carrying the club's lofty aims.' 
Moffi has already scored 12 goals in 28 matches for his new side, including netting twice in a 3-2 win over PSG this season.
Their other big summer signing Jeremie Boga, who joined from Atalanta for £16m, scored the winner in their recent 1-0 win over Monaco. Other signings were more low-key including Morgan Sanson arriving on loan from Aston Villa and youngster Aliou Balde from INEOS-owned Lausanne.
While it remains early in the season, it is possible that Nice may have landed on the correct structure off the pitch to deliver progress on it. This could bode well for Man United given reports Ratcliffe and Ineos plan to radically overhaul the club's football department.
The suggestion is that Brailsford could be given a similar role to the one has held at Nice, with claims former Tottenham and Southampton sporting director Paul Mitchell is in line for the sporting director position.
Despite criticism of Ratcliffe and INEOS's early time at Nice, the group have also earned praise from Vieira despite being sacked back in 2020.
'He'd never interfere with my work,' Vieira told FourFourTwo magazine earlier this year. 'We'd talk about football when we met, about the team and our lives, but he's [Ratcliffe] not an owner who will get involved too much and prevent the manager from doing his job.
'His ambitions and expectations are high, so you know where you stand, but you can do your job freely.'
Former Nice manager Patrick Vieira praised INEOS approach while he was at the club
Ex-Nice goalkeeper Kasper Schmeichel praised the focus on a high-performance environment
Schmeichel, who left after one season this summer, also praised Ratcliffe and Brailsford for their knowledge of performance and being in tune with the fanbase.
'One of the biggest reasons that I joined Nice was because of INEOS and because of Sir Jim Ratcliffe and Sir Dave Brailsford, their vision and how they want to evolve their sports,' Schmeichel told Sky Sports Monday Night Football last season.
'Because they've been successful, not just in business, but in every other sporting venture they've thrown their investment at. I think with Manchester United particularly, Jim [Ratcliffe] is a big fan of the club and that speaks a lot to fans.
'He's someone coming in who cares deeply about the club. From my own experience at Nice, he's a man who is present, he comes to games, a guy that's knowledgeable about football and who has a vast knowledge about performance in general.
'He has people like Dave Brailsford working for him, who again, are present and I think that's the main thing with any club I've played at, look at Leicester, for example, the owners are present and there is not a divide.'
Achieving this looks central to the task ahead of INEOS, given the animosity the United fanbase feels towards the club's current owners, the Glazer family.
Man United supporters may also hope INEOS have learned the lessons from their early struggles at Nice, with the start of the Ligue 1 season a reflective of the approach a Ratcliffe regime could bring. 
IT'S ALL KICKING OFF! 
It's All Kicking Off is an exciting new podcast from Mail Sport that promises a different take on Premier League football.
It is available on MailOnline, Mail+, YouTube, Apple Music and Spotify.
Your browser does not support iframes.

Source: Read Full Article