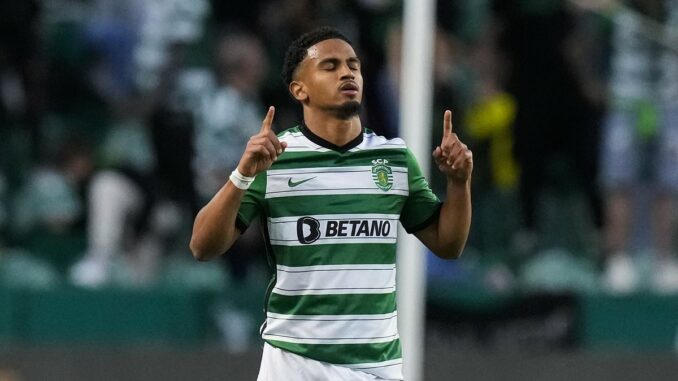 Tottenham 'prepared to sign former academy prospect Marcus Edwards' with Ange Postecoglou's side 'having a buy-back clause which would allow them to pay just 65 per cent of Sporting Lisbon's release fee'
Marcus Edwards has excelled abroad after leaving Tottenham back in 2019 
Spurs could sign him back for a price cheaper than his release clause 
CHRIS SUTTON: Arsenal manager Mikel Arteta is a CLOWN – It's All Kicking Off 
Tottenham are reportedly prepared to sign former academy prospect Marcus Edwards and could avoid having to pay Sporting Lisbon's release clause.
The 24-year-old has excelled abroad after he left Tottenham back in 2019 after struggling to break into their first-team.
Edwards came back to haunt his former side in the Champions League last season, netting in a 1-1 draw at the Tottenham Hotspur Stadium.
Portuguese publication Correio de Manha have reported that Tottenham are interested in re-signing the forward and could be in for a bargain if they do so.
It's claimed that Tottenham have a buy-back option that would allow them to pay £34m for Edwards – 65 per cent of his £52m release clause at Sporting Lisbon. 
Tottenham are reportedly interested in re-signing former academy starlet Marcus Edwards
Ange Postecoglou's side have a buy-back clause for Edwards (right) who left Spurs in 2019 
Your browser does not support iframes.
Edwards could offer Tottenham depth across a number of positions, which would boost their chances of challenging for the title.
Tottenham suffered their first defeat of the Premier League season on Monday, during a chaotic 4-1 loss against Chelsea.  
With the squad looking thin as injuries and suspensions begin to take their toll, Spurs could look to bolster their squad in the January window. 
Edwards, after scoring against Tottenham in October 2022, said that he has grown up since he originally left Spurs for Vitoria de Guimaraes. 
He told reporters: 'I have grown up in a lot of ways, I'm 23 and last time I was at Tottenham, I was only 17, 18, I was only a baby so I have definitely grown up.
'I was just a kid, you know what kids are like. I was just a kid growing up, so I could be like, whatever. Of course I was naturally a bit of a Spurs fan but I was playing for the club and went to all the games and stuff.
'Everyone has a different journey. For me it worked out, going over to Portugal. It took me a long time though.'
Edwards came back to haunt Tottenham by scoring against them for Sporting Lisbon during a 1-1 draw in the Champions League in October 2022
IT'S ALL KICKING OFF! 
It's All Kicking Off is an exciting new podcast from Mail Sport that promises a different take on Premier League football, launching with a preview show today and every week this season.
It is available on MailOnline, Mail+, YouTube , Apple Music and Spotify
Your browser does not support iframes.
Source: Read Full Article