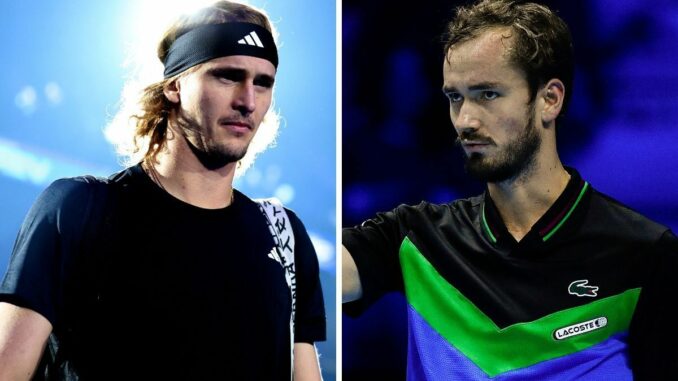 Alexander Zverev has admitted that he regrets starting a row with Daniil Medvedev after their fiery match at the Monte Carlo Masters earlier this year. Zverev later claimed that he was disappointed in the world No 3 "as an athlete" while Medvedev responded with some criticism of his own. Although the German doesn't think he should have lashed out, he still doubled down on his suggestions that Medvedev was unsportsmanlike in a backhanded apology.
Zverev and Medvedev faced off a staggering six times this year, with the Russian winning five of the encounters. Their most memorable match came in Monte Carlo, where the 27-year-old saved two match points came from a set down to defeat the German. Medvedev ran out of official toilet breaks during the match but agreed with the umpire that he could run off to use the bathroom he did so in the short allotted time for a changeover.
But Zverev wasn't happy with the decision, later claiming that it wasn't "fair play" in a scathing post-match interview. Medvedev bit back when the comments were put to him, saying that his rival was "living in his own world". The pair were still able to be civil on the court for the rest of the year and the world No 7 has now conceded that he shouldn't have slated Medvedev in Monte Carlo.
"At the end of the day I should have gone to him and said 'Hey, what's the point?' and shouldn't give an interview about it," the 21-time title winner told Sky Germany. "I swore to myself during the match that if I lose, I'll shake his hand. If I win the match, then I won't shake his hand. That was just too much for me."
Click here to join our WhatsApp community to be the first to receive breaking and exclusive tennis news.
Just in Djokovic under pressure to avoid 'failure' as Serbia lucky with Murray injury[LATEST]
Referencing their first meeting of the year in Indian Wells, Zverev admitted that he wasn't too happy with Medvedev anyway and things got too much when the Russian went to the toilet in Monte Carlo. He continued: "I was disappointed, I was angry at that moment because I had the feeling that I needed that one breakthrough at that moment. That could have happened in Indian Wells, there were a few scenes there that were strange. In Monte Carlo it was just too much."
But it seems that Zverev isn't too sorry for his criticism of Medvedev as he still stands by his thoughts. "I also believe that a lot of things happened in this match that shouldn't have happened. I'm not backing down from that," he added. "I really believe that the match wasn't won by playing tennis and that's something I hate. I hate it when something like that is done and I find it incredibly unsportsmanlike."
At the time, Zverev told the broadcaster: "I take fair play and sportsmanship very serious. He does not. I'm extremely disappointed from him as an athlete. Of course you can argue that it's not good from me that I get distracted. This should not happen to me and it's totally my fault and it really was bad from my side. But still I feel fair play should always be part of sports."
Support fearless journalism
Read The Daily Express online, advert free
Get super-fast page loading
Don't miss…
Andy Murray putting 'questions' in Katie Boulter's head as Brit's legacy hailed[QUOTES]
Novak Djokovic names which stars will replace him, Nadal and Federer[PREVIEW]
Sinner makes ominous prediction for Djokovic's career after ATP Finals loss[PREDICTION]
But Medvedev wasn't having any of it. The world No 1 admitted that he usually felt bad when he showed any unsportsmanlike conduct towards a rival but that wasn't the case with Zverev as there was no love lost between them. "So I usually feel bad when something on court happens and let's say I'm not fair play, because I know sometimes I'm not," he said.
"Sascha is living in his own world. Yeah, Sascha, when he loses, we can find maybe 25 interviews of him where he does say some strange things." Referencing some other "kind" guys, the 2021 US Open winner added: "Sascha is not this guy.
"Sascha is not like Casper [Ruud], he's not like Diego [Schwartzman], he's not like Andrey [Rublev. When he says someone is not fair play, you're like, 'Okay, great. Look at yourself in the mirror.'" It remains to be seen what Medvedev makes of Zverev's latest comments after renewing the row seven months later. But the world No 3 let his tennis do the talking when he beat the German again during last week's ATP Finals.
Source: Read Full Article