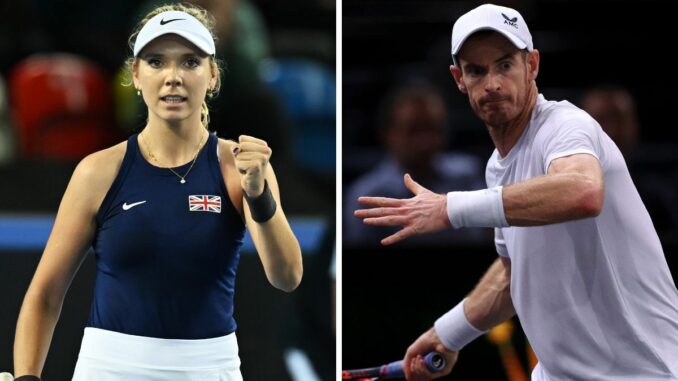 Katie Boulter has admitted that watching Andy Murray puts plenty of "questions in [her] head". The 27-year-old has enjoyed a breakthrough season, cracking the world's top 50 and winning her first WTA Tour title. But she is still looking to compatriot Murray for inspiration and has lauded his legacy in the sport.
While Murray is no longer at his Grand Slam-winning peak, the former world No 1 continues to inspire his fellow players. At the age of 36, he is still grinding away on the tour – even after undergoing a major hip resurfacing surgery in 2019. And his dedication to the sport is pushing Boulter to do better.
The top-ranked Brit is used to seeing the three-time Major winner plugging away at the National Tennis Centre and has started questioning what she should be doing after watching him put in the work. "I think he's a true champion in everything that he does and I've got massive respect for what he does on a daily basis," Boulter told Sky Sports.
"To see him here at the NTC day in, day out still grafting, still working so hard it is truly inspiring and it's fun to watch in a way that it gives me questions in my head as to whether I should be doing certain things or whether I'll be playing in 10 years' time or whether I'll be playing in 20 years' time."
Click here to join our WhatsApp community to be the first to receive breaking and exclusive tennis news.
Just in Novak Djokovic names which stars will replace him, Nadal and Federer[LATEST]
While she still wasn't sure how long she'd be playing, Boulter said she would be more than happy to take advice from the man who was once her idol. The world No 57 continued: "I don't know, so it's nice to see a true champion at work – that's for sure.
"If I needed some advice he'd definitely be someone I would go to. He's been on tour for a very long time and I'm sure he's got a lot of wisdom over the many, many years so he is someone who I would for sure be going to for advice."
Support fearless journalism
Read The Daily Express online, advert free
Get super-fast page loading
Don't miss…
Novak Djokovic's coach jokes about Rafael Nadal as Serb gets £3.5m payday[RECAP]
Sinner makes ominous prediction for Djokovic's career after ATP Finals loss[QUOTES]
Alcaraz responds after reading interview with his own coach criticising him[RESPONSE]
Murray has nothing left to prove in the sport – winning three Grand Slam titles, two Olympic Gold medals and reaching No 1 in the world. But he has still found himself battling it out in marathon matches against top players this year, often being dragged to a final set.
It's something that has left an impression on Boulter. "His legacy is everything," the 27-year-old added. "He is the epitome of tennis in his passion, his love for the game, it's like no other. You don't see that often on tour and what he's been able to accomplish."
Source: Read Full Article